Soy sauce on White Clothes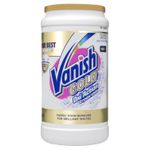 Vanish Gold Oxi Action Crystal White Powder
Vanish Gold Oxi Action Crystal White Powder 
Soaking
1.
Fully dissolve 30g in 7 litres of warm water (max 40 °C).
2.
For the best results, soak for minimum of 2 hours for white and rub the stains. For colours, soak for maximum of 2 hours.
3.
After soaking, wash as per in-wash instruction
Did this solve your Stain?
Other solutions to solve this stain.
Didn't find the solution you were looking for?
Expert Tips
Here's our top tip for removing soy sauce marks: blot as much of the stain as possible. Soy sauce will become more difficult to remove later if it is dry. We would also encourage you not to rub a stained item; this will only smear it around
Take a clean, damp paper towel or cloth and dab the soy sauce stain until you have removed as much as possible.
Then once you have Vanish, follow the instructions above to completely remove the stain
v
Popular Articles
Sleeves and cuffs are the main contenders for soy sauce stains whilst eating Chinese food; particularly that last spring roll that you leaned over to dip! Not to worry, Vanish Gold Oxi Action Powder can help to remove soy sauce marks from your garments in no time.