Meat Baby Food on White Clothes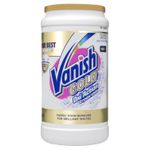 Vanish Gold Oxi Action Crystal White Powder
Vanish Gold Oxi Action Crystal White Powder
Pre-treat
1.
Mix 30g of powder with a full lid of water (max 40°C)
2.
Apply mix to the surface of the entire stain
3.
Using the underside of the scoop, rub the mix into the stain. Only leaving mix on stain for a maximum of 5 minutes.
4.
Then wash as per in-wash instruction.
Did this solve your Stain?
Other solutions to solve this stain.
Didn't find the solution you were looking for?
Popular Articles
Meat baby food stains aren't as cute as the baby that makes them. With Vanish it's easy to get your baby's clothes clean. Works on mum's clothes as well.