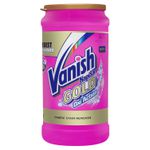 Vanish Gold Oxi Action Powder
Vanish Gold Oxi Action Powder
Soaking
Step 1
Fully dissolve 30g of powder in 7L of water (max 40 °C).
Step 2
Soak for a minimum of two hours. Tough stains may require repeat applications.
Step 3
After soaking, wash as per in-wash instructions. For best results on stains, rub before washing.
Did this solve your Stain?
Other solutions to solve this stain 
Didn't find the solution you were looking for?
Expert Tips
Leaky pens and highlighters can lead to dreaded stains on your favourite top. Our tip is to lay your stained fabric on top of a clean, dry cloth, then apply water to the stained area and blot with another clean cloth.
Once you have Vanish, follow the instructions above to remove the stain.