Gravy on Coloured Clothes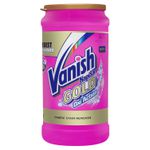 Vanish Gold Oxi Action Powder
Vanish Gold Oxi Action Powder
Pre-treat
1.
Mix 30g of powder with a full lid of water (max 40°C)
2.
Apply mix to the surface of the entire stain
3.
Using the underside of the scoop, rub the mix into the stain. Only leaving mix on stain for a maximum of 5 minutes.
4.
Then wash as per in-wash instruction.
Did this solve your Stain?
 Other solutions to solve this stain.
Didn't find the solution you were looking for?
Popular Articles
A Sunday lunch wouldn't be the same without gravy, but it can create some tough stains.