Cooking Oil on White Clothes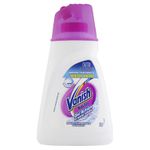 Vanish Napisan Oxi Action Crystal White Gel
Vanish Napisan Oxi Action Crystal White Gel 
Soaking
1.
Mix 100ml of Vanish Napisan Oxi Action Inwash Gel in 7L of warm water (max 40°).
2.
Soak item for 1hr (max) for colours or up to 6hrs (max) for whites.
3.
Place pod with 60ml (front load) or 100ml (top load) dose into your washing machine and wash as usual with your detergent.
Did this solve your Stain?
Other solutions to solve this stain.
Didn't find the solution you were looking for?
Expert Tips
Our top oil & grease stain removal tip is to attack the stain rapidly! Oil & Grease stains will become more difficult to remove later if you don't treat them immediately as they start to set into the fabric.
Take a clean, damp paper towel or cloth and dab the oil stain for a few minutes. Be careful not to spread the stain.
Follow Vanish instructions as above.
Popular Articles
Cooking oil & olive oil stain clothes and carpets all the time. Many people will throw away clothing (especially whites) affected by this everyday kitchen stain, but with Vanish Oxi Action in your cupboard you can be rest assured that getting rid of oil stains will be easy. Oxi Action is formulated to quite literally lift the stain out of the fabric.