Blood on Carpets - Solution 1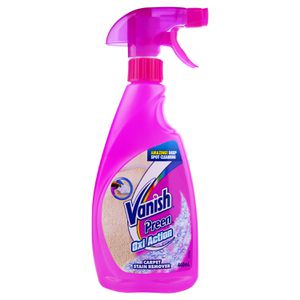 Vanish Preen for Carpets
Amazing Stain Removal 1st Time
Method
For a fresh stain: remove the excess by blotting with a paper or cotton towel then spray the product onto the stain, and leave for 5 minutes maximum. Then blot again with a clean, absorbent cloth. For a dry stain: spray the product, leave it act for a maximum of 5 minutes then blot away with a clean, absorbent cloth.
Did this solve your Stain?
Other solutions to solve this stain.
Didn't find the solution you were looking for?
Popular Articles
Blood can be very difficult to remove from carpets if it isn't treated correctly. Nose bleeds & children's accidents are the most likely culprit for these types of stain. However, there's no need to panic, Vanish can deal with it and help return your carpet to its original state quickly.