Beetroot on White clothes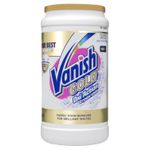 Vanish Gold Oxi Action Crystal White Powder
Vanish Gold Oxi Action Crystal White Powder
Soaking 
1.
Add 30g to 7L of warm water (max 40 degrees) and leave garment to soak for a minimum of 2 hours.
2.
Then wash per in-wash instruction.
Did this solve your Stain?
Other solutions to solve this stain.
Didn't find the solution you were looking for?
Expert Tips
Our top beetroot stain removal tip is to act very quickly, beetroot is a very stubborn stain and over time will become harder to remove.
Try to get some cold water onto the stain and then soak up as much residue as possible.
Once you buy Vanish, follow the instructions above to remove the stain.
Popular Articles
Beetroot stains are the stuff of nightmares; especially when adding a white shirt into the mix! Almost like you're being punished for eating a healthy salad. Vanish Oxi Action Products mean you don't need to worry about beetroot stains; Vanish can take care of them quickly and easily.